History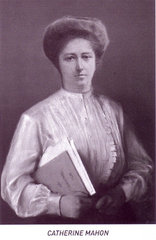 Catherine Mahon
1869 – 1948
Catherine Mahon, the eldest of seven children, was born in Lacka, North Tipperary on May 15th 1869. She was educated at Birr Convent of Mercy, where she was employed as a monitor from the age of 15 until she qualified as a national teacher at 21 years of age.
After qualifying, she worked for the Mercy sisters, teaching in Tulla National School and Nenagh convent N.S. in 1890 -1891. In September 1891, she was appointed principal of a small school in Glenculloo Co. Tipperary but left in April 1892 to take up an appointment in her native parish as principal of Carrig N.S. She continued working in Carrig until her retirement.
Catherine was very involved in the I.N.T.O. and became the first woman president of the organization in 1912 and served again in 1913, the only woman president to serve two terms since the rules governing elections were framed in the early 1900's.
In addition to her involvement in the I.N.T.O., she participated in many of the movements which were seeking to bring about political, social and cultural change in the Ireland of the opening decades of the 20th century. Catherine was an ardent home ruler, an enthusiastic supporter of the Gaelic League and her involvement in the suffragettes movement probably motivated much of her work on equality issues within the I.N.T.O.
Catherine retired from teaching in 1934, the year she also became the first woman elected to North Tipperary, Co- Council. She was also the first woman to sit on the North Tipperary Health Board. Her term on the council ended in 1941, by which time she had retired to Balbriggan Co- Dublin. Catherine died in Balbriggan on February 27th 1948
The Irish School Weekly of March 1948 reported:
"In the annals of the I.N.T.O., the name and deeds of Catherine Mahon will occupy a large and deservedly honoured place. May she rest in peace".
Poem by Catherine Mahon

A decision by the national teachers was somehow a mystery
And they created their own little piece of history
When contrary to tradition, they established a precedent
By electing a female as their union president.
Miss Catherine Mahon from the parish of Loughkeen
Was their chosen candidate for nineteen twelve – thirteen
A unique teacher who was known far and wide
For her independence, discipline and clarity of mind
From the school in Carrig her students were noted
For their handwriting which she meticulously promoted
And her concern for the poor was frequently evident
When she realised somebody was genuinely indigent
The youngsters all knew of it was safe to have fun
If Miss Mahon arrived with her hair in a bun
But it being done up in curls was an ominous symbol
And they realised there reason for fearfully tremble
She lived in Carrig village with her school near at hand
And was known in troubled times to have defined the Black and Tans
When in spite of an edict, as their convoy was passing her station
She had her pupils out marching in military formation
Being involved in politics she was seen rehearsing her speeches
Alone in the fields among the tall branches
And gesticulations were selected to duly emphasise
her admonitions, statements and utterances erudite
Eventually on retirement, she moved to north Co. Dublin
But in Carrig her name will never be forgotten
May her work be for all of us a legacy of inspiration
And may she rest in peace in her adopted Balbriggan.